First of all, I've lost 6.5 pounds since I started this little odyssey about a month ago! Yay me!
I thought people might be interested in what I've been eating. I apologize in advance for my poor photography skills with food. I'm not bad at taking pictures of plants and flowers, but plates of food -- meh. I just don't have mad food stylist skills. Take my word for it, even if it doesn't look appetizing, I've been eating some pretty delicious food.
That said, a lot of it has been salads (Good thing it's summer). Or some kind of protein with a vegetable on the side.
Here's one of my favorite lunch salads.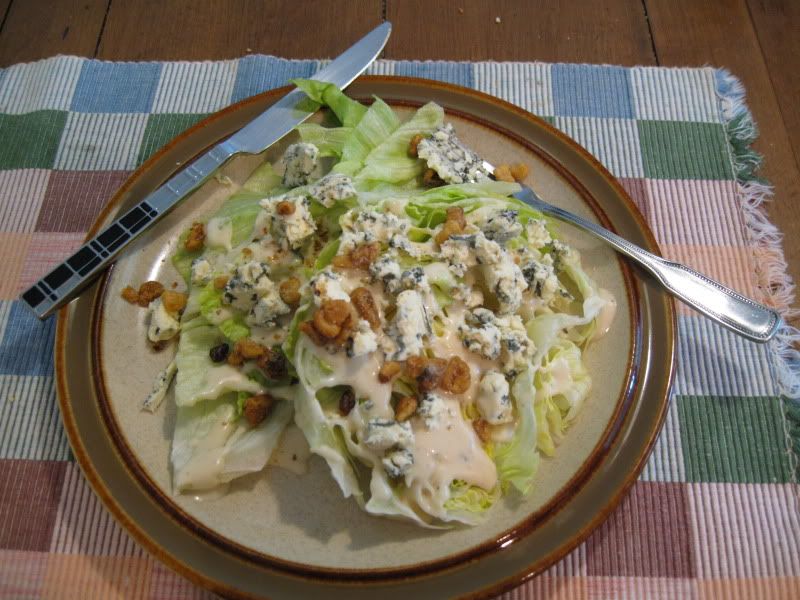 Iceberg lettuce, blue cheese dressing, walnuts and chunks of blue cheese
I know iceberg lettuce is rather old-fashioned. When I was growing up, it was the only form of lettuce my mom knew. No mesclun, no radicchio, no baby lettuces, no arugula. Just really cold, straight from the fridge, crisp lettuce. I like those other greens, I eat them too. But sometimes I just hanker after cold and crisp. And I looove me some funky, creamy blue cheese. Full-fat (not diet) blue cheese dressing from a bottle. Diet creamy dressings just don't taste right to me. They would make this salad a chore to eat.
(Break for a bit of a Rant Here) I made a decision when I first started dieting that I wasn't going to eat fake foods. No diet versions of foods. No artificial sweeteners. No diet cookies or candy (no candy or cookies or baked goods at all). The only exception is Newman's Own Lite Balsamic Salad dressing. And an occasional Diet Coke. Mostly I drink lots of water, and two cups of decaf coffee first thing in the morning, with a glug of half and half and one teaspoon of sugar. But once in a while I have a Diet Coke. It's my husband's fave soda, so it's the only soda we have in the house. I'm not philosophically opposed to Sweet n Low or Equal or Splenda. I just don't consider them food. I do consider sugar a food. It's just a food that I have to eat in moderation. Also, I think there's some truth in the research that indicates that artificial sweeteners inure people to the natural sweetness in real foods, like fruit. (I reserve the right to revisit this in the future, cause I'm kind of flying by the seat of my pants here, just trying to find a diet I like and that works for me). (Back to the food)
If you don't like blue cheese, you could maybe have this with ranch dressing and shredded cheddar.
Here's another salad I often have for lunch.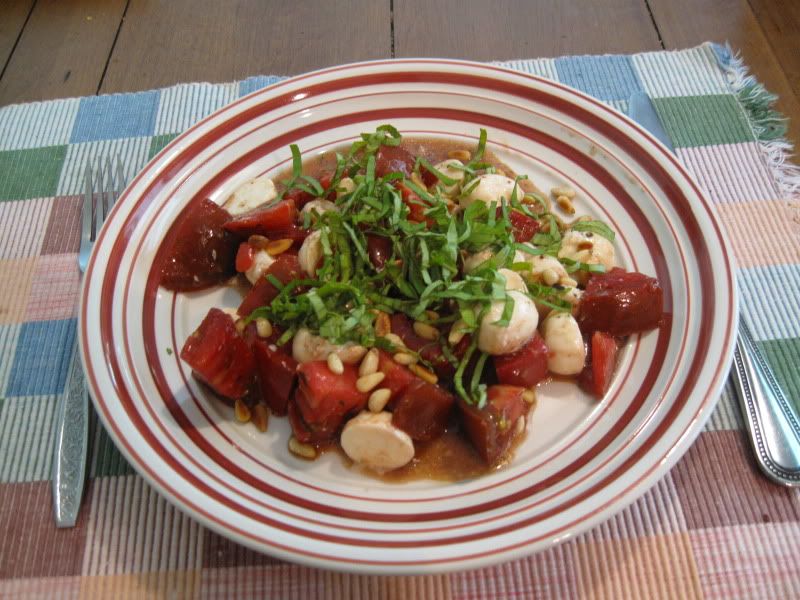 Heirloom tomato, fresh mozzarella balls, toasted pine nuts, basil (from my garden) and Newman's Own Balsamic
Here are some suppers I've been having.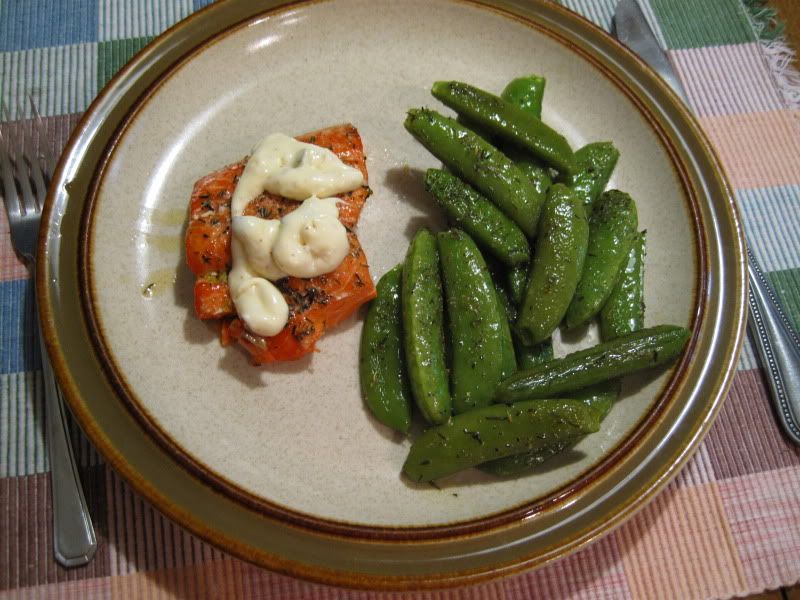 Roasted sugar snaps (from my garden), roasted salmon fillet with tartar sauce
I thought it was important to get lots more fish into my diet. I love fish! But I wasn't eating enough of it. I'm not good at cooking it. I seem to either undercook it, or overcook it. If I sear it, it ends up crusty on the outside and not completely cooked inside. I roasted this fillet in the oven, with olive oil, salt, pepper and thyme, for about 15 minutes at 350. It turned out great! I cooked the sugar snaps the same way. Lots of my suppers have been a basic protein (chicken, pork or another kind of fish) and a veggie or a garden salad.
Here's another supper.
Salmon cakes and a pea salad (peas from my garden)
I got the recipe for the salmon cakes from Diana's blog
Voice in the Garden
. Not only are they full of yummy salmon goodness, they are also chock-full of vegetables. Follow the link to the recipe on her blog. The pea salad is one I make a lot. Peas, diced celery, diced cucumber, shredded carrot, shredded cheddar cheese, a bit of mayo, a bit of honey mustard, parsley, salt and pepper. This version I added bacon, but I've done it before without, and decided it didn't need it. (It doesn't look appetizing in this picture, but it's yummy!)
Here's a salad that is a home version of one we often get at a local restaurant, and that I've seen on lots of other menus.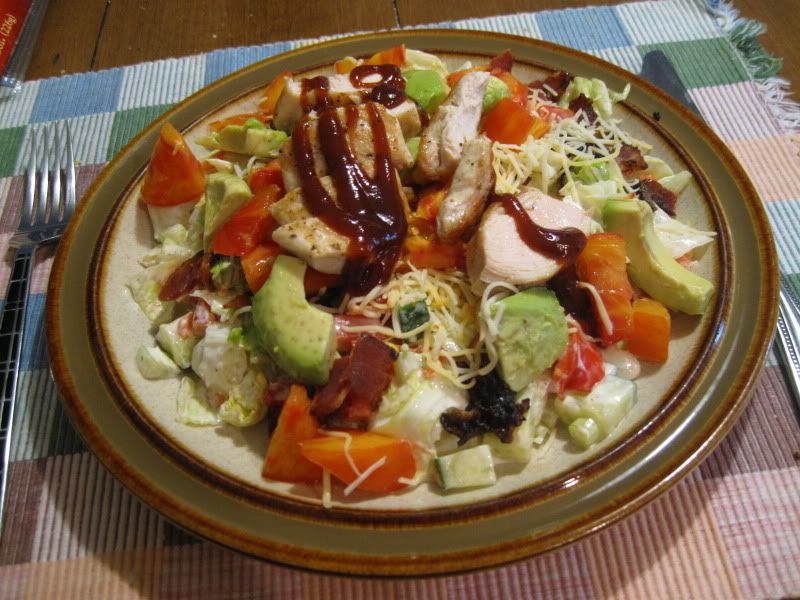 BBQ Chicken Salad
Lettuce, tomatoes, diced cucumbers, bacon, shredded cheese, corn, avocado, caramelized onions (cooked and then cooled in the fridge), ranch dressing, grilled chicken on top with a little squirt of bottled BBQ sauce (Sweet Baby Ray's). My husband loves this salad!
OK, one more salad, and then I'm done.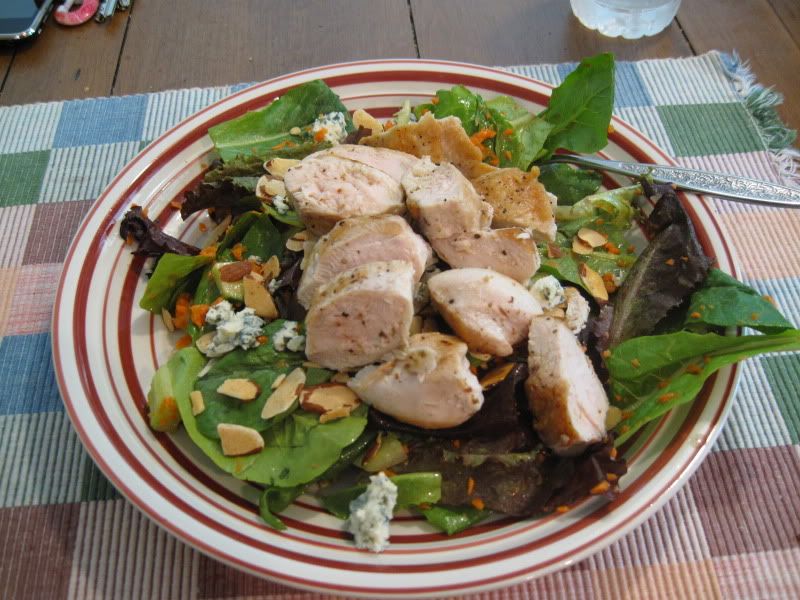 Baby lettuces, diced celery, sliced almonds, blue cheese, shredded carrots, and a bottled maple vinaigrette dressing
This salad, when I get it at a local restaurant, usually also has some pear slices on it, but I don't really think they add anything. But I might try sliced apple next time.
So...there's a little look at some of the meals I've been eating. My husband has been eating the same meals as me in the evenings, and he's been very happy!
Dessert is often a bowl of berries -- blueberries, raspberries, blackberries, strawberries.
For a snack sometimes in the afternoon I have a piece of fruit -- a ripe plum or peach.
I didn't talk about breakfast because sometimes I just don't eat that meal. I know they say not to skip breakfast, it's the most important meal of the day, gets your metabolism going, etc. But they also say don't eat if you're not hungry. And I am often not hungry when I first get up. If I get hungry before lunch I eat some scrambled eggs or fruit or yogurt.
If you eat a meal or have a recipe that is healthy and want me to know about it because it might fit into my diet, PLEASE tell me about it!