Ever since we moved from Massachusetts to Washington, I've been wanting to get a few chickens. I thought they would be fun to raise and to have, and the free eggs are healthy and yummy. Plus, they're trendy. No, wait, that's not a good reason. They'll eat my slugs. They'll eat my lettuce when it bolts (and it has). They provide free fertilizer. I can even feed them weeds.
When we started looking for a new house, I made sure we didn't choose one in a neighborhood that had an HOA, because all the ones I read about banned chickens. (There was also no way I was going to let an HOA dictate to me how to garden).
It was a bit of a hard sell with Nigel, my husband. I could tell he wasn't exactly sold on the idea, and he didn't want to annoy our neighbors. But he knew I needed (and wanted) to lose weight, and was having a hard time getting motivated. So he decided that the best reward for me was to get chickens when I lose weight.
When I lose 40 pounds, I can get chickens.
I've been eating better. Lots of fruits and vegetables, salads, cheese, and lean protein (fish, chicken, eggs, pork). Some nuts once in a while, and once a day, just so I won't feel completely deprived, a single ounce of dark chocolate. No bread or other baked goods, no pasta, no potatoes, no refined grains, no sweets.
I've also been walking, almost every day, about one and a half miles. That first day was h.a.r.d. Boy was it hard! But it got easier, every day. My goal is to walk four miles a day. About 15 years ago, I weighed about 50 pounds less than I do now, and I used to walk 4 miles a day. It's 2 miles to a nearby lake, and it's my goal to get there and back. Some days my feet and my legs ache. That's no fun. But I'm still walking.
I even brought my camera along one day to take some pictures. I'm looking forward to the day I get to take a picture of the lake. It will be a much nicer picture than what I see when I get to the spot now where I turn around.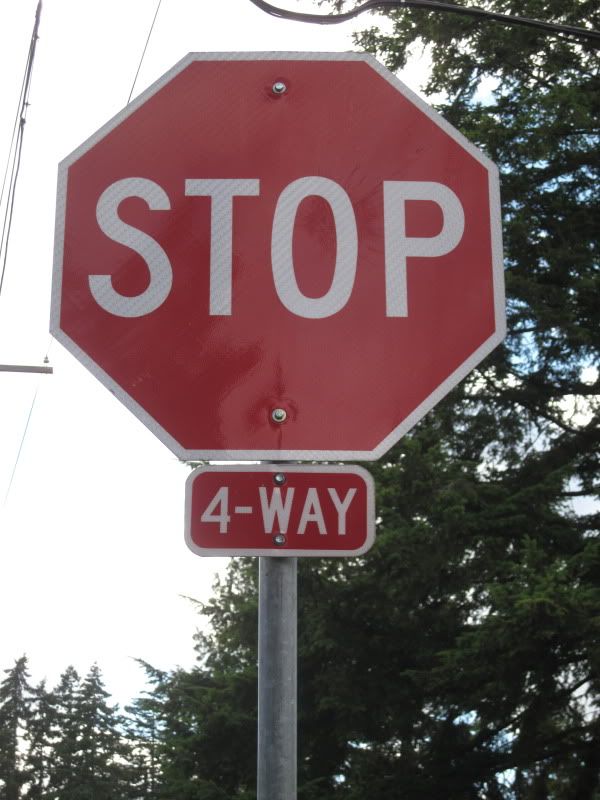 It's .8 mile from my house to this stop sign, 1.6 miles round trip.
I started this blog to share my journey.